PRESS RELEASE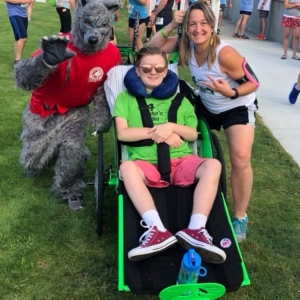 September 9, 2018 – Hudson, MA – Hudson resident Sheryl Marrazzo will be competing in the Title 9 Sprint Triathlon in Hopkinton, MA on September 9, 2018 with her 15-year-old son Jake, who has Duchenne Muscular Dystrophy and has been confined to a wheelchair since age 12. Sheryl will compete in the triathlon by pulling Jake in a raft for a 1/4 mile swim, then pulling him in a Team Hoyt custom-design race chair for a 10 mile bike ride and finally pushing him for 3.1 miles in the race chair.
The inspiration for this challenge is when Jake has repeatedly told Sheryl, "I am frustrated on the sideline waiting for you to finish your Triathlons. Can you take me with you this year?" Sheryl agreed and began a 25-week training regimen with Unified Health & Performance owner Brendan Alward. So for the last 168 days or so, each day has been filled with swimming, running, biking and strength training for this 52-year-old mother of three.

Sheryl says, "I swim, bike and run for Jake and all those who can't. We started a foundation called 4 Jake's Sake to help families trying to cope with Duchenne Muscular Dystrophy. Jake is my constant source of inspiration to raise awareness and funds for this disease without a cure. When we train, Jake always asks me when are we going to go faster?"
Duchenne Muscular Dystrophy is a progressive muscle disorder that causes loss of muscle function and independence. It is the most common fatal genetic disorder diagnosed during childhood. Boys with Duchenne first lose their ability to walk, then their ability to use their arms and carry out everyday activities. As they grow into young men, Duchenne boys typically succumb to the disease by their early 20s due to respiratory problems or heart failure.
Sheryl joins the 80 other Gals for Cal team for the 5th year at the Title 9 Sprint Triathlon, raising money for the "Living Large" fund. This helps families living with Duchenne to get the things they need to live an accessible life. To support Sheryl & Jake with their efforts, visit the 4 Jake's Sake Foundation and visit the Gals for Cal team to learn more about this great organization.
https://4jakessake.com/wp-content/uploads/2018/07/37388553_1741048905930486_3936448899580952576_n-1.jpg
720
720
4 Jake's Sake
https://4jakessake.com/wp-content/uploads/2018/07/Jake-Sake-Logo.png
4 Jake's Sake
2018-09-07 01:42:19
2020-11-01 02:17:44
Hudson Woman Will Compete in a Triathlon with Her Son Who Has Duchenne Muscular Dystrophy